How to tie a martial arts belt
Tying you karate belt made simple!
| | |
| --- | --- |
| | Fold the belt in half to find the middle point of it |
| | Place the middle point of the belt in front of the belly; wrap around the back; and pass the two ends back to the front... |
| | ...crossing the two ends over |
| | Pass the side that's on top underneath both layers of the belt; from the bottom upwards (NB. picture shows the belt being pulled through from the top, not passed down from the top) |
| | Even up the two lengths so they are about the same length, with the one that was fed up and behind, on top of the other |
| | Cross the two ends |
| | Pass the length that's underneath up and over the other and pass it down through the hole you created between the two |
| | Pull the two ends tight to create the perfect, tied belt! |
---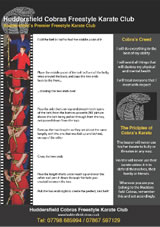 Download your own belt tying instructions
Print them off and practice
You'll be an expert in no time!